Eight interiors styles – as seen inside designers' own homes
(Image credit: Jason Ingram)
From Scandi re-imagined to warm minimalist, each of these homes – located around the world – reflects a key style of décor. Dominic Lutyens takes a peek inside.
A
A new book, Inside, At Home with Great Designers, published by Phaidon, is a compendium of 60 homes that leading architects and interior designers around the world have previously lived in or currently occupy. When creating their homes, designers and architects are able to give free rein to their personal taste, untrammelled by constraints normally imposed by clients. As a result, their homes are a purer, more personal expression of their vision – a space where ideas can be tested out freely.
More like this:
– Ten revealing images of artists' studios
– The Japanese craft that helps us heal
– Eight of the world's best opera houses
"A designer's own space is an experiment in living as they wish and not as a client commands," William Norwich, who wrote the book's introduction, tells BBC Culture. He cites the home of architect Hugo Grisanti, whose practice in Santiago, Chile is renowned for its use of vibrant colour. And while his home reflects this, its colour palette is more adventurous still. "In his home he could relish applications of vibrant colours his clients might only dabble in," says Norwich.
The book is also symptomatic of an age when high-profile interior designers – jettisoning concerns about privacy – willingly subject their homes to public scrutiny, eagerly posting images of them on social media to raise awareness of their brand. The book inevitably highlights these designers' individuality, since each one has a distinctive aesthetic. We picked out eight homes that illustrate key interiors styles today.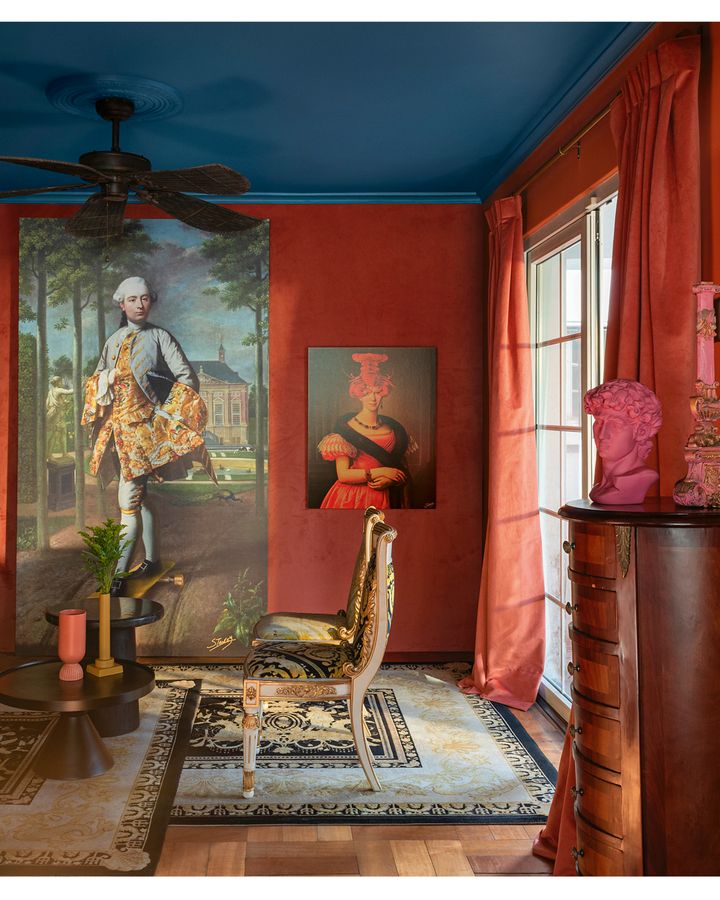 Bold use of colour creates a vibrant atmosphere in designer Hugo Grisanti's Santiago home (Credit: Ana María López)
The colourist
Hugo Grisanti, who co-founded Grisanti & Cussen with Kana Cussen in 2007, lives in a single-storey 1940s house. He lives alone and as such has total freedom to experiment with ways to decorate his home, which he does in collaboration with Cussen. Originally, the house had four small bedrooms but these have been transformed into a large bedroom and an office. The duo is passionate about colour, and by creating this larger, open space, the impact of their chosen hues – described in the book as "a symphony of cerulean, verdant and coral tones" – is heightened. Paint is liberally applied over ceilings as well as architectural mouldings. Grisanti says that colour alone can alter or refresh our envionments: "We use different colours to create new atmospheres." Such bursts of colour are part of a maximalist sensibility that encompasses a love of pattern and historical references. In the bedroom, this is conveyed by a painting of an 18th-Century dandy by Argentinian artist Stanley Gonczanski and chairs by Gianni Versace.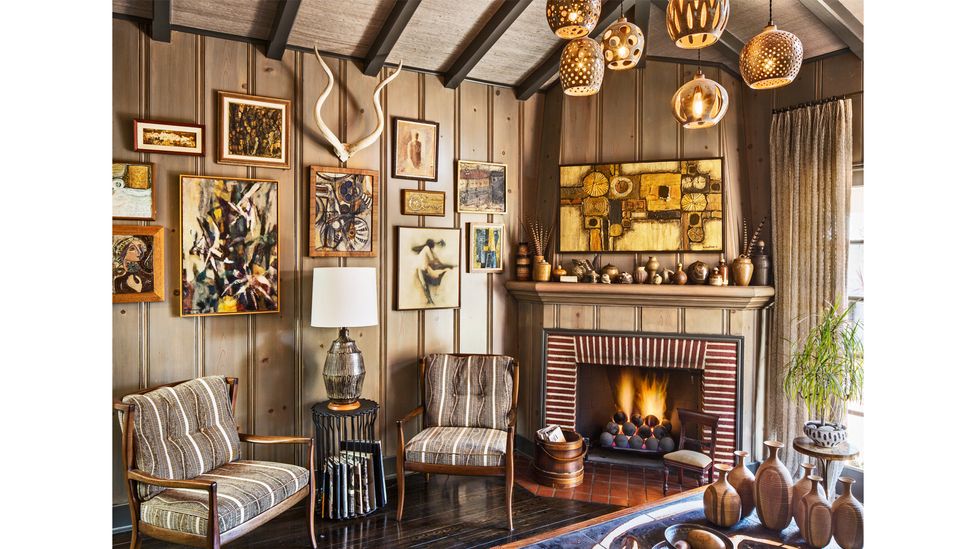 A quirky, mid-century mood pervades the Los Angeles home of high-profile designer Jeff Andrews (Credit: Grey Crawford)
Mid-century
Los Angeles-based Jeff Andrews is a fan of mid-century modern, a style he extensively explored at his home in a 1930s Spanish Colonial house, where he lived from 2012 to 2020. The designer, whose clients include Lady Gaga and Kourtney Kardashian, left its interior largely untouched, altering it instead by introducing new textures, patterns and finishes as well as mid-century furniture and contemporary pieces in the mid-century idiom. He retained a sunken living room, and lined the gaps between the beams on its ceiling with unmistakeably retro wallpaper. In one wood-panelled room with brown walls and a fireplace, which triggered fond memories of his grandparents' home, he hung 1950s and 1960s abstract, impasto paintings and a chandelier made of ceramic orbs created by LA-based designer Heather Levine. The largely monochrome interior could have looked flat but for an abundance of textures that provide visual interest, as do several eye-catching sculptural pieces, such as some mid-century sputnik-shaped chandeliers in the living room.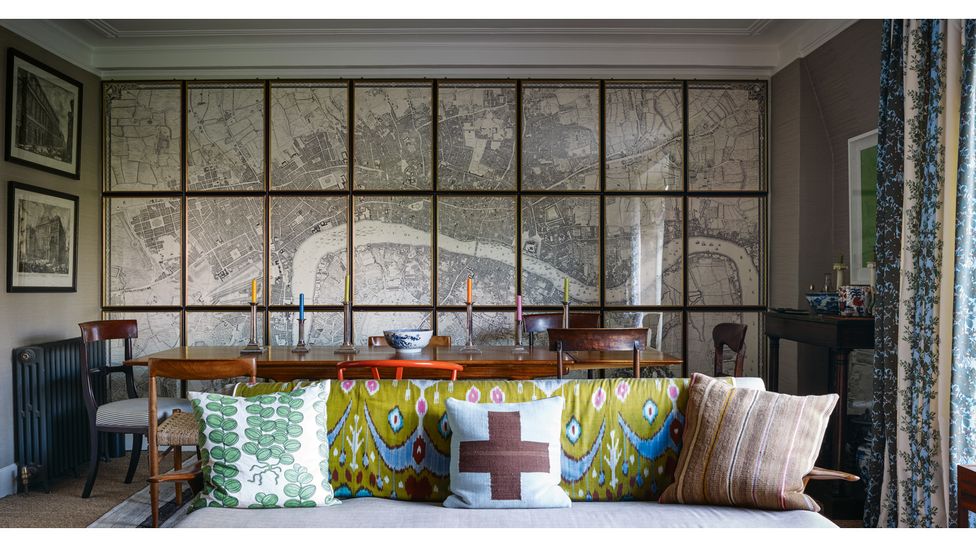 British designer Ben Pentreath's home in London reflects his 'English eccentric' style (Credit: Jason Ingram)
English eccentric
Architectural and interior designer Ben Pentreath's affection for classic, hand-crafted British designs – from Marianna Kennedy's lamps with colourful, candlestick-like bases, sold at his Bloomsbury shop Pentreath & Hall, to classic William Morris wallpapers – pervades his London home. Appropriately, he lives in the Art Workers' Guild building founded in the 1880s by followers of Morris. Pentreath is known for his cosy but stylish aesthetic and comfortable interiors, with offbeat colour combinations. Exactly fitting one wall in his sitting room are 24 framed maps of London produced by the French-born, British 18th-Century cartographer John Rocque, which form a dramatic, surprisingly decorative backdrop. Elsewhere there are colourful, abstract, pop-inspired works by British artist Robyn Denny, Morris's Willow Bough wallpaper, Wedgwood jasperware, a mint-green armchair and cushions bought on his travels to Stockholm, Paris and New York.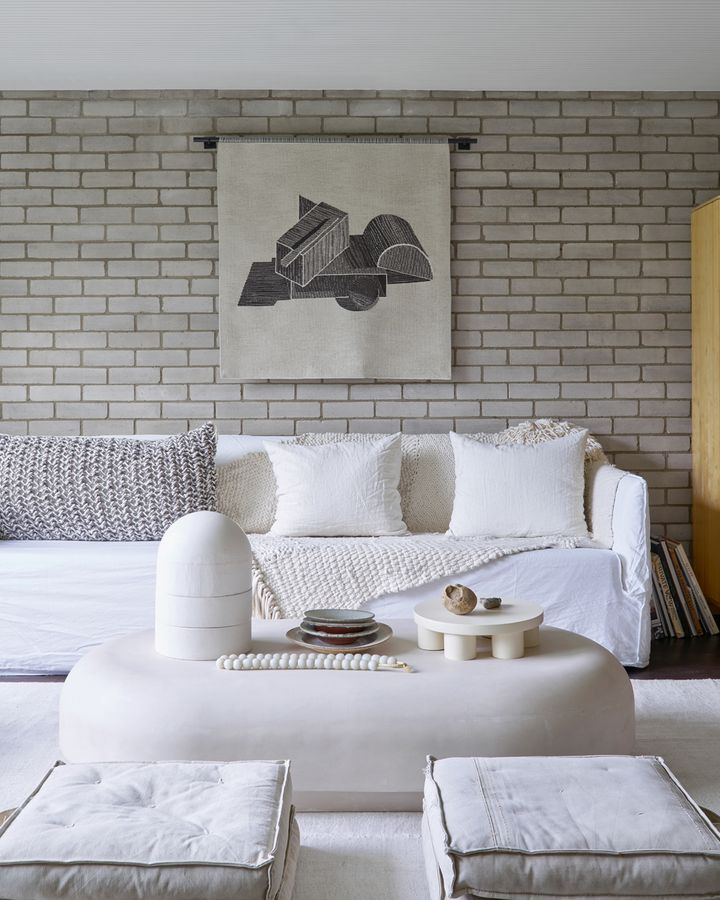 The modernist London home of Faye Toogood has been furnished in a restrained, warmly minimalist style (Credit: Henry Bourne)
Warm minimalism
Moving to a modernist house in Highgate, North London influenced designer Faye Toogood to adhere to its aesthetic when it came to the interior. She had previously lived in a Georgian home, much of it painted shades of blue, redolent, she said, of some of Vermeer's paintings. Her husband, Matt Gibberd, co-founder of estate agent The Modern House, discovered their home – a boxy modernist building, designed by Swiss architect Walter Segal. Toogood decided not to tamper with its original, clean-lined layout, and opted for a restrained monochrome palette. However, an organic rather than rectilinear version of modernism was uppermost in her mind when it came to furnishing her new home. "This 1960s house was like living with a Barbara Hepworth sculpture or a Lucie Rie white pot," she muses in the book. The house incorporated some warm elements, including a wall clad with vertical wood slats, and Toogood further softened the interior by covering dressing-room doors with clotted cream-coloured felt, and made curtains out of raw canvas. She also furnished it with her new designs in mainly white or ecru tones, including her chunky Roly Poly chair with a generously curved seat that cradles the sitter and a sculptural white plaster coffee table.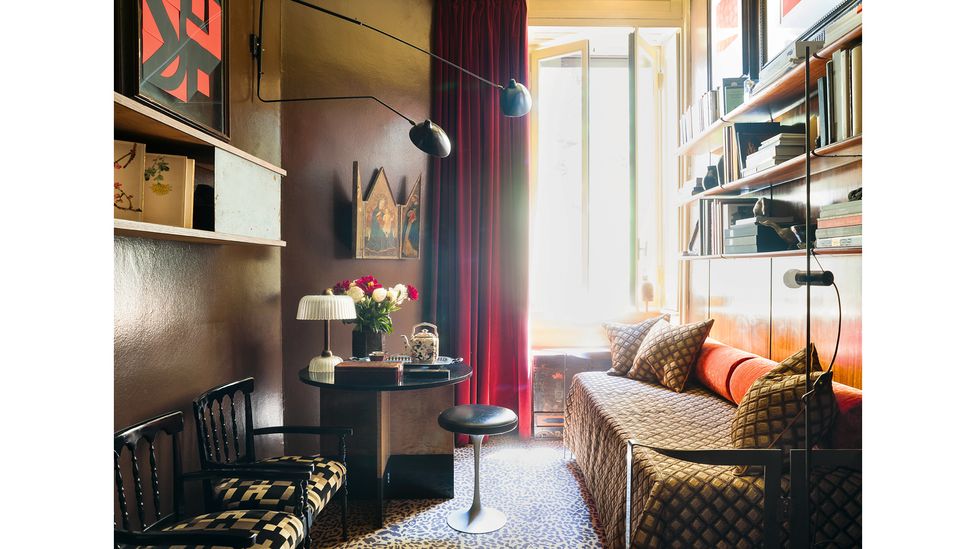 There is a lavish, eclectic feel to the interior of Emiliano Salci's Milan home and studio (Credit: Dimorestudio)
Eclectic
The Milan home-cum-studio of Emiliano Salci, co-founder and creative director of Italian design outfit Dimorestudio, mirrors the studio's intriguing, moody, almost louche aesthetic. Salci lives in an apartment in a 1940s building that overlooks a palm tree-filled garden. Dimorestudio designs atmospheric interiors with a decadent vibe for fashion boutiques, private homes, restaurants and hotels. The book accurately describes the shared, lavish aesthetic of Dimorestudio and Salci's home as follows: "The firm's designs emit an amber glow that lends a theatricality and lounge-like sexiness to the rooms clad in sumptuous velvets and gleaming satins… This approach is no different in Salci's home where he opted for warm tones of brown, hazel, ochre and dusty orange." In his home, Salci has mixed designs from Dimorestudio's product line, Dimoremilano, including a leopard-print carpet in the hallway and a cocktail table in the living room, with mid-century pieces, such as an oval mahogany table by the US designer George Nelson. A wall-hung triptych depicting a Madonna and child adds another opulent touch, as do purple satin curtains eccentrically wrapped around Salci's wardrobe.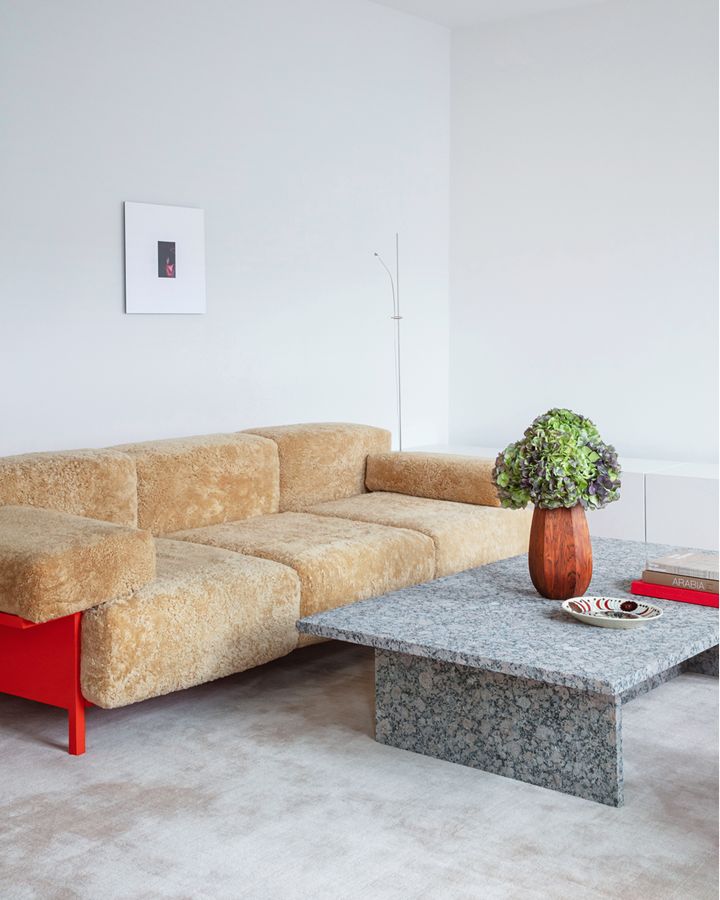 The Copenhagen apartment of David Thulstrup showcases a re-imagined Scandinavian mood (Credit: Irina Boersma)
Scandi reimagined
The Copenhagen apartment of Danish architect and designer David Thulstrup puts a fresh, playful spin on the famously functionalist Scandi aesthetic that has proved so popular over the past two decades. When the designer, who created the interior of world-renowned Copenhagen restaurant Noma, bought his flat, he changed its layout, radically converting a warren of small bedrooms into a large, open-plan, loft-like space. The sparsely furnished apartment features some of his designs, many of which depart from the standard, mid-century Scandi aesthetic. Overall, the living room has a 1980s hotel-lobby feel, more stagey than homely. Its furniture is at once stark and pop: a sofa upholstered in fawn sheepskin resembling teddy bear-fabric with a fire-engine red frame stands opposite a grey marble-patterned coffee table. The apartment is also furnished with a bespoke blackened steel dining table inspired by his collection of Swedish designer Hertha Bengtson's streamlined but curvaceous Blå Eld (Blue Fire) tableware, created in 1950. Meanwhile, battleship grey Venetian blinds fronting a row of regularly spaced, floor-to-ceiling windows once again conjure up the 1980s.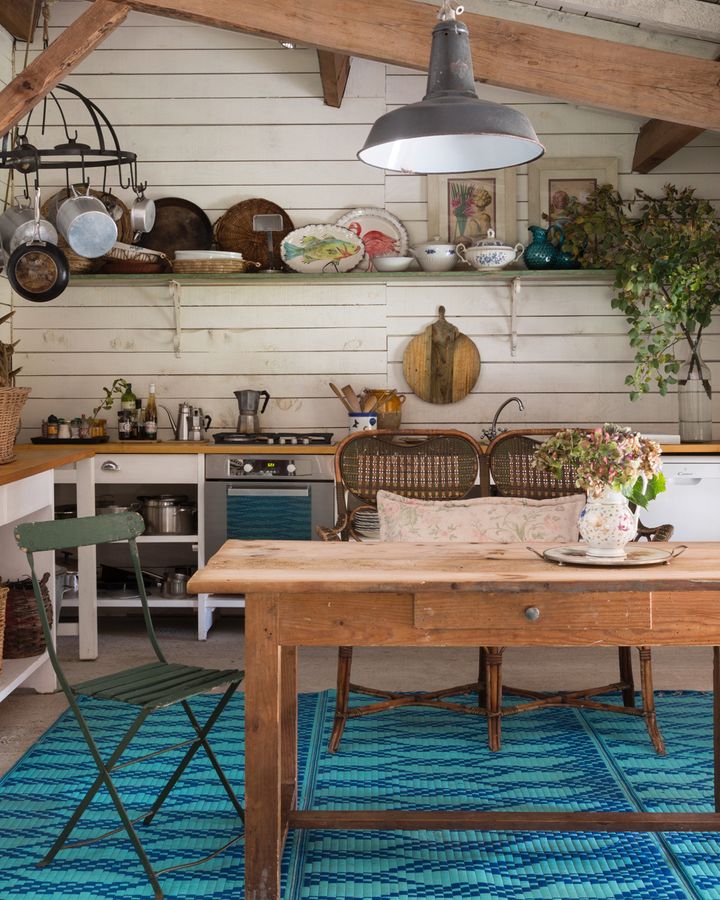 Madrid-based designer Isabel López-Quesada has combined rustic and industrial elements in the interior of her home (Credit: Miguel Flores-Vianna/The Interior Archive)
Industrial meets rustic
Madrid-based designer Isabel López-Quesada's projects prove that the humblest structures can be converted into stylish environments, even when largely furnished with discarded furniture and salvaged materials. One particularly challenging project for her was transforming some concrete henhouses near her home – a former pheasant farm in Biarritz on the French Basque coast – into a guesthouse that provides extra accommodation for guests, not least for numerous family members (she has three adult children and six sisters). The guesthouse's kitchen bears many hallmarks of López-Quesada's style, chiefly functionality, conveyed by open shelves on which all utensils are visible and accessible. It also has an earthiness mixed with romanticism in the form of robust, rustic furniture. Her style makes a virtue of improvisation, too: other elements in the cabin-like guesthouse include a wooden console rescued from the street and an old trunk used to store kindling for the fireplace.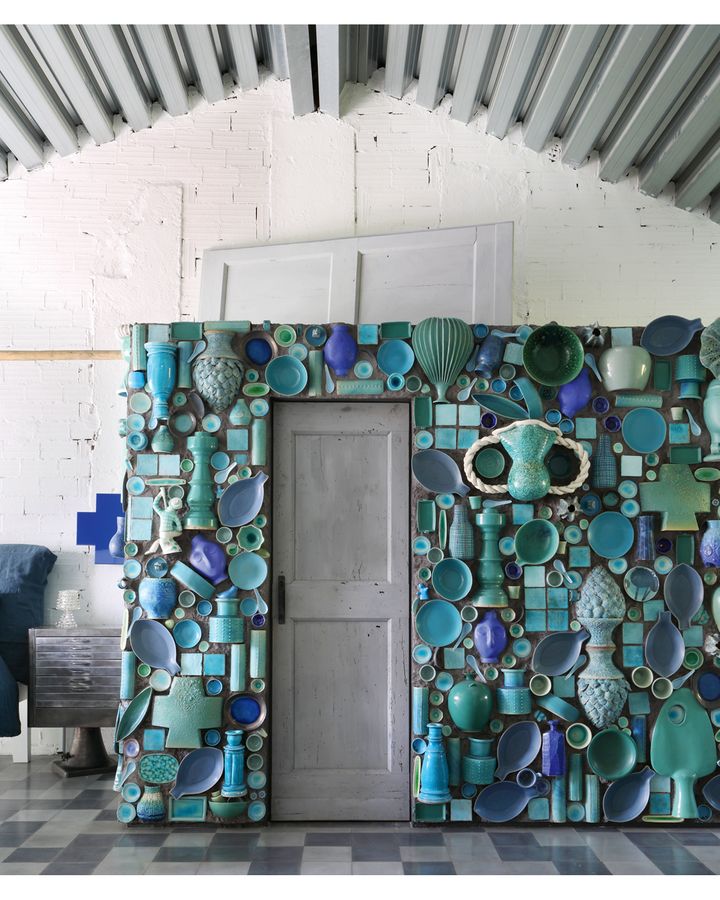 Italian interior designer Paola Navone has created an idiosyncratic, bohemian home in Milan (Credit: Enrico Conti)
Boho idiosyncracy
Italian designer Paola Navone has an impeccably avant-garde pedigree. In the mid-1970s, she was a member of the experimental Italian collective, Studio Alchimia, which debunked what it considered to be tired tenets of modernism, such as its emphasis on rationality and streamlined forms. It should come as no surprise then that Navone's home in Milan is thoroughly idiosyncratic. It has a new metal roof which Navone had installed after the original one was destroyed by a fire. Navone has painted white spots on a black iron staircase, while a tree trunk painted with white stripes penetrates a staircase, then protrudes through a mezzanine. Her rejection of traditional good taste is most dramatically expressed in her bedroom, where a shower unit is encrusted with ceramic vessels, many of them entire vases, urns and dishes, an effect that wittily subverts the conventions of bathroom decoration.
Inside, At Home with Great Designers is published by Phaidon on 6 October.
If you would like to comment on this story or anything else you have seen on BBC Culture, head over to our Facebook page or message us on Twitter.
And if you liked this story, sign up for the weekly bbc.com features newsletter, called The Essential List. A handpicked selection of stories from BBC Future, Culture, Worklife and Travel, delivered to your inbox every Friday.