Behind the scenes: 10 artists' studios through the centuries
(Image credit: Kunsthistorisches Museum, Vienna)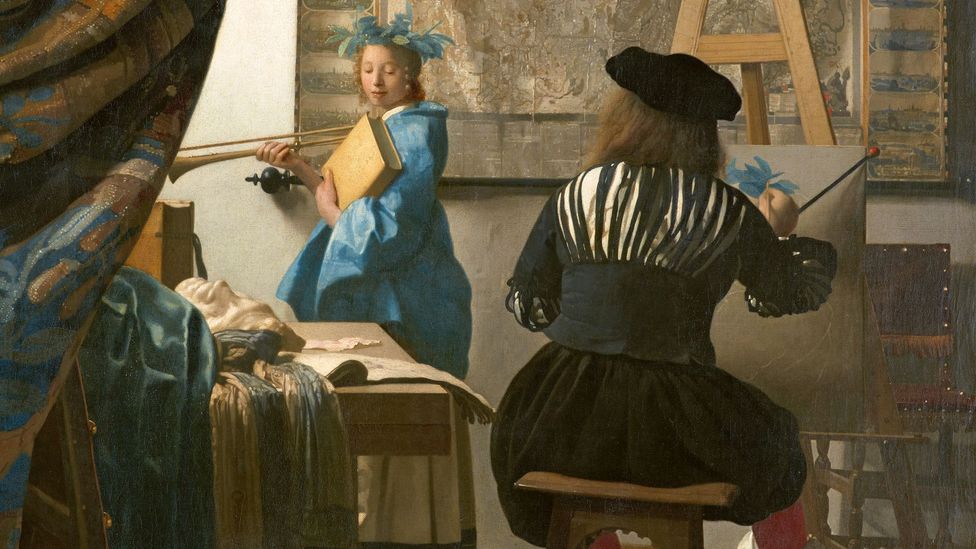 From the Middle Ages to today, a new book offers a glimpse into the inner sanctums of artists through the centuries. Clare Dowdy takes a look.
F
For centuries, the process of making art has been a source of fascination for the public, and for artists themselves. Over the years, artists at work have been depicted on everything from the pages of books to Ancient Greek urns, as well as in paintings and photographs. Such images shed light on the role and status of the artist, the techniques and rituals of their era, the evolving attitudes to sitters and visitors, and the changing creative environments.
More like this:
– Ancient Islamic roots of modernity
– Eight of the world's best opera houses
– Scandalous roots of the amusement park
In The Artist's Studio: A Cultural History, art historian James Hall delves into the myths and realities of the creative process, as they are portrayed in images of artists' and artisans' workplaces over the ages. Here are 10 of the most revealing images Hall features in his new book.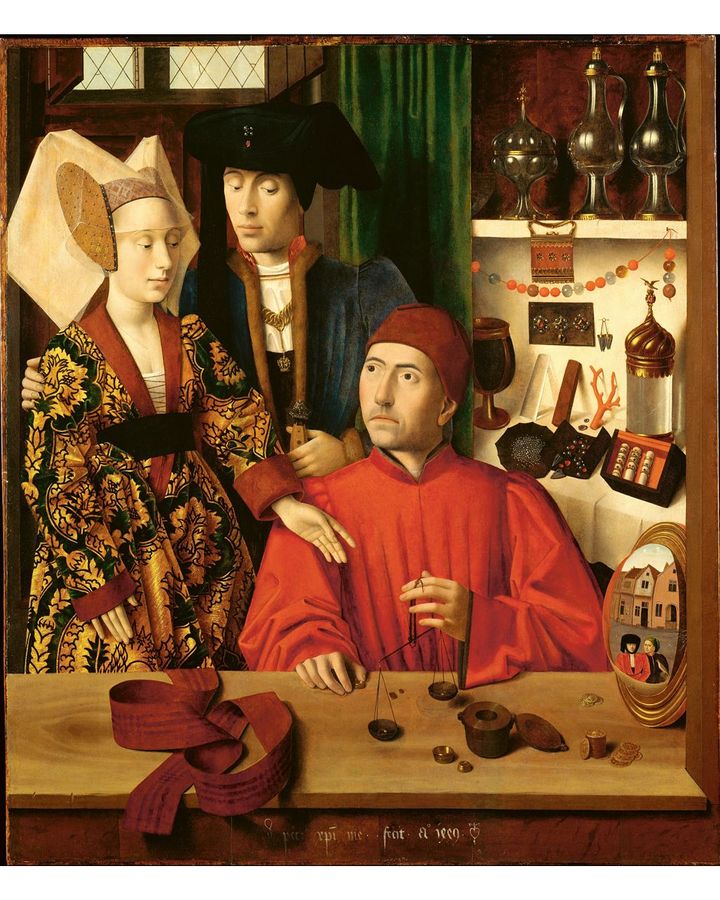 A Goldsmith in his Shop, 1449, by Petrus Christus (Credit: The Metropolitan Museum of Art, New York/ Robert Lehman Collection, 1975)
A Goldsmith in his Shop, 1449
In the 15th Century, goldsmiths enjoyed elevated status because they were dealing with precious metals. It was crucial that they were trustworthy. To this end, goldsmiths had to work in public, with their scales positioned at the front of their shop to prove they weren't using false weights. The goldsmith in the painting by Petrus Christus is weighing a ring to price it up, and his weights and measures are in full view. "This picture is all about an openness – hence the goldsmith's wide, clear eyes. The clients are at his shoulder, and the convex mirror increases light levels in the room, and magnifies items for the goldsmith working on a small scale," Hall tells BBC Culture.
The artist is emphasising that the ideal goldsmith has perfect vision. "And the painting is testament to Christus's own perfect vision, as the detail – like the vases and items on the shelf – is extraordinary," Hall adds.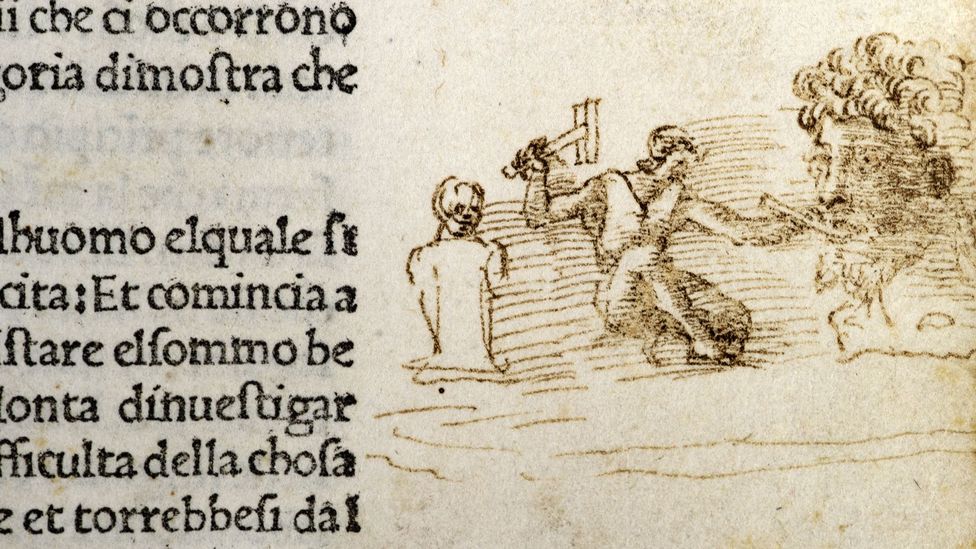 A Sculptor at Work, c1503-10, by unknown Florentine artist, from Cristoforo Landino's edition of Dante's Divine Comedy (Credit: Biblioteca Vallicelliana, Rome)
A Sculptor at Work, c 1503-10
A marginal illustration in Cristoforo Landino's edition of Dante's Divine Comedy, 1481, is the work of an unknown Florentine artist. Hall spotted this drawing within the pages of the book, and is convinced it is a depiction of Michelangelo at work on a huge head and holding a mallet. "The sculptor, hitherto unrecognised, can only be Michelangelo during or after his triumphant achievement carving the David,"Hall writes.
This depiction of Michelangelo repudiates Leonardo's idea that making art should be a comfortable and refined activity, according to Hall. Hence the physical force on display with the raised mallet, and the workman's utilitarian singlet. The artist is finishing off the mouth of this colossal figure, which is symbolic because, "One of the main forms of praise for an artwork was that it was a speaking likeness," Hall explains, "meaning it looked as if it was about to speak."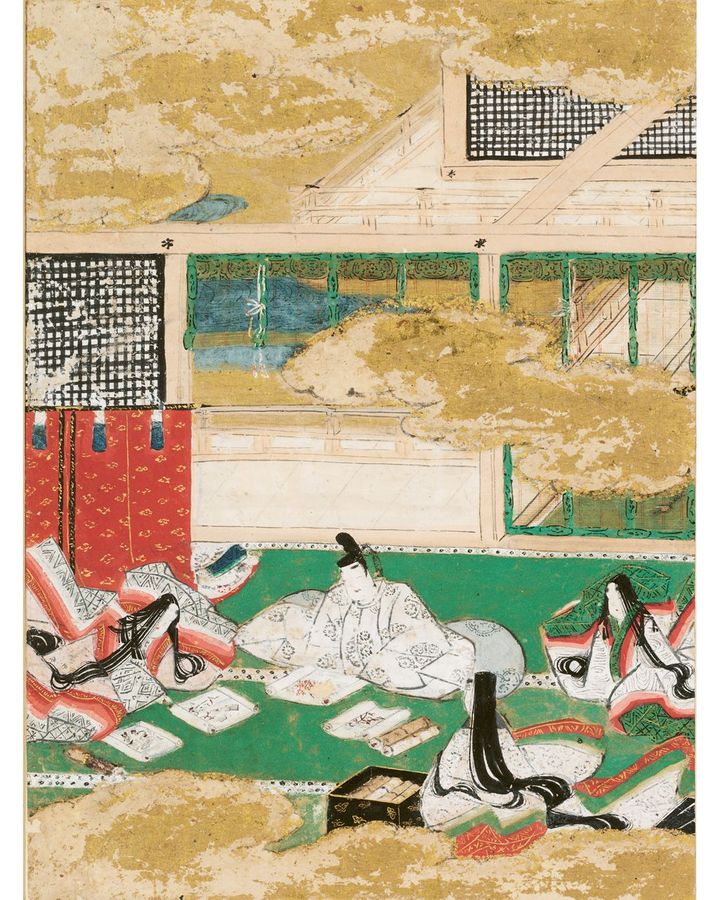 The Picture Contest (Eawase) from the Tale of Genji, 1509–10, by Tosa Mitsunobu (Credit: Harvard Art Museums/Arthur M Sackler Museum/ the Hofer Collection of the Arts of Asia)
The Picture Contest, 1509-10
There are very few depictions from the Far East of artists at work, because as a profession it did not have high social status. But there are many depictions of picture contests (eawase), when artists made paintings to be judged against each other. There's a famous eawase in The Tale of the Genji (c 1000CE) by Murasaki Shikibu, depicted in 1509-10 by artist Tosa Mitsunobu. Hall explains that Genji, the illegitimate son of the former Japanese emperor, is an accomplished painter and calligrapher, as is the current emperor. "In the grand finale of the competition, Genji submits his own autobiographical paintings, which have been made with spontaneity and emotion," Hall writes. "They reduce male and female courtiers to tears."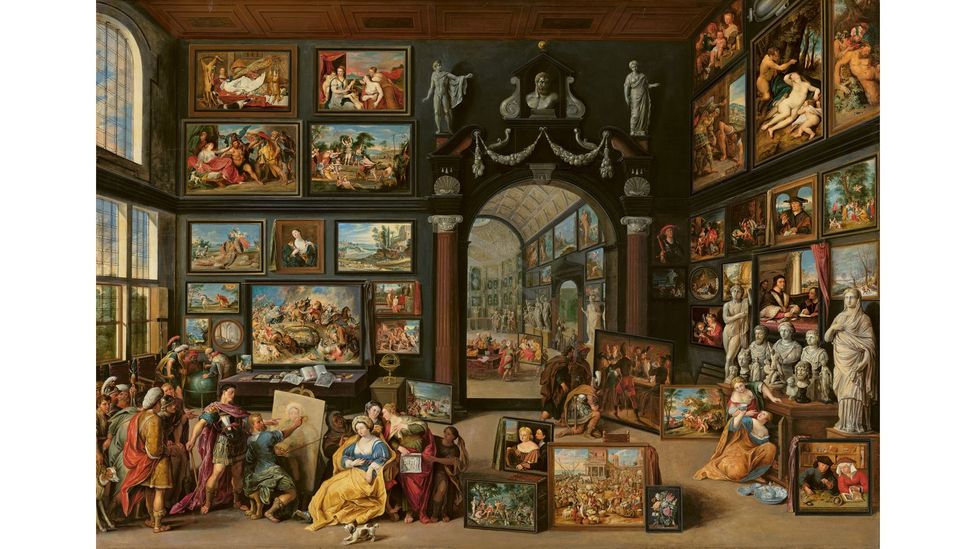 Apelles Painting Campaspe, c 1630, by Willem van Haecht (Credit: The Mauritshuis, The Hague)
Apelles Painting Campaspe, c 1630
The home studio depicted here by Willem van Haecht is based on Peter Paul Rubens' set-up. The Flemish artist had a purpose-built studio block and garden in Antwerp, which became a tourist attraction. Other artists followed suit, building up art collections that they displayed in an organised way. "They liked to have these kinds of symmetries to organise a disparate collection of paintings, and sometimes they cut them down to fit the space," says Hall.
This is one of a new type of portrayal that showed idealised galleries, studios and workspaces, thronged with visitors. Apelles, court painter to Alexander the Great, is portrayed here as the red-headed Rubens. He's painting Campaspe, the mistress of Alexander the Great, who's standing behind the artist. "During the sittings Apelles fell in love with her," Hall explains.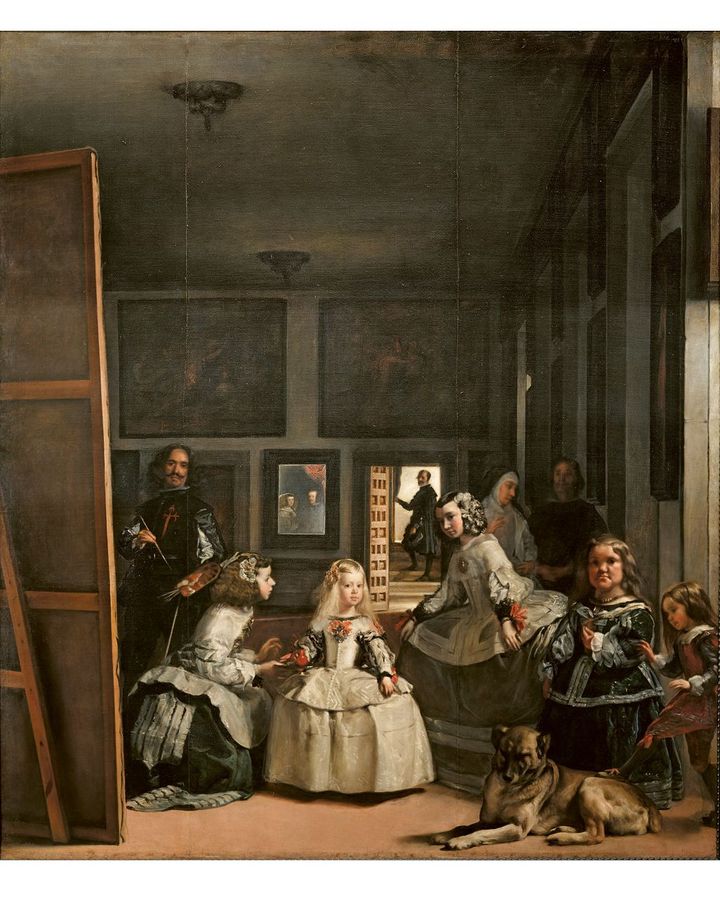 Las Meninas, 1656, by Diego Velázquez (Credit: Museo del Prado, Madrid)
Las Meninas, 1656
According to Hall, this painting by Diego Velázquez is a fairly accurate depiction of the artist's own studio, in the former apartments of the deceased crown prince Balthasar Carlos in the royal palace, the Alcázar. The viewer can spy King Philip IV of Spain and his second wife, Mariana of Austria, reflected in the mirror behind their court painter. Its large size and ebony frame mean this mirror is probably the most expensive item on show, barring the silver-threaded silk dress of the five-year-old Infanta Margarita María. "Velázquez owned 10 mirrors, which suggests both fascination [with them] and wealth," writes Hall.
The Art of Painting, 1666–8, by Johannes Vermeer (Credit: Kunsthistorisches Museum, Vienna)
The Art of Painting, 1666–8
Women became more frequent visitors to artists' studios around the time of this painting by Johannes Vermeer, and the spaces themselves became more "feminine in character", Hall writes. On show in Vermeer's The Art of Painting are patterned fabrics and clothes, a brass chandelier, a pretty draw-leaf table with turned legs, marble floor tiles, a hand-coloured map and walnut chairs bedecked in velvet, silk and lace. "Apart from the deluxe chandelier, most of these props appear in other pictures, so we can assume they were household items," Hall writes. Though he adds that the tiles (costly and heavy) were never likely to be found in a studio, or on the first floor.
Meanwhile, the foppish artist sports a stylish slashed doublet, painter's beret, voluminous breeches and velvet shoes. But the joke is on us, as Vermeer's painter has few visible tools – no palette, spare brushes, bottles or pigment. And "no model could hold that pose for long", says Hall. In reality, the artist would probably have made drawn studies, and dressed a mannequin.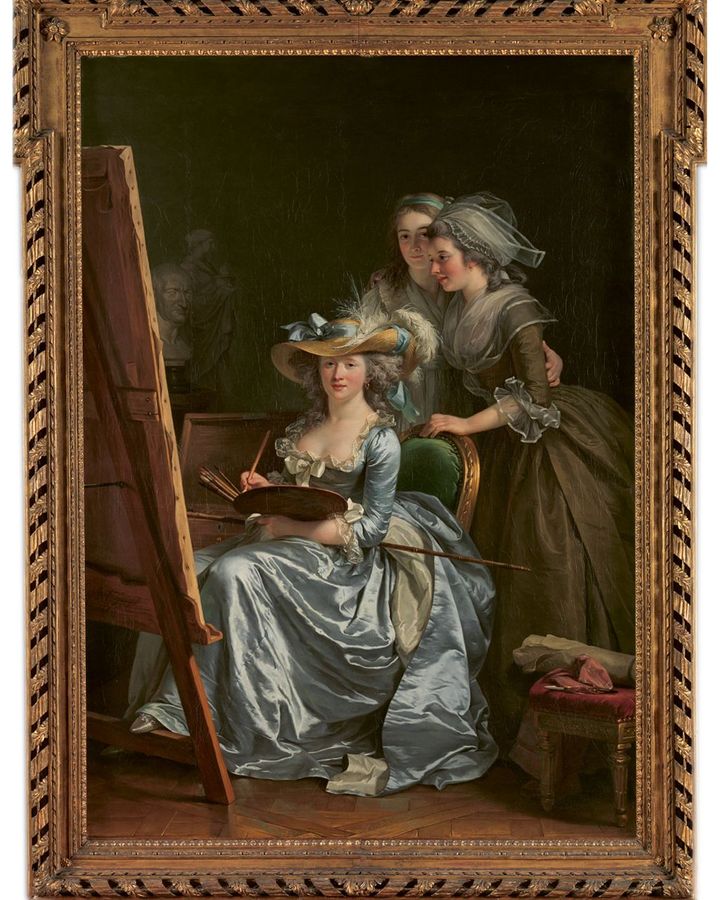 Self-Portrait with Two Pupils, Marie Gabrielle Capet and Marie Marguerite Carreaux de Rosemond, 1785, by Adélaïde Labille-Guiard (Credit: Metropolitan Museum of Art, New York)
Self-Portrait with Two Pupils, 1785
This picture by French artist Adélaïde Labille-Guiard, depicting herself and two pupils, Marie Gabrielle Capet and Marie Marguerite Carraux de Rosemond, "almost epitomises Leonardo da Vinci's desire that painting should be a relaxed effortless, social event", says Hall, describing the image as "a sort of Leonardesque fantasy". He points out the elaborate satin dress, on which not a drop of paint has splashed, and the extravagant (and delightfully impractical) hat.
The only concession to the authentic mess and effort of the studio is the canvass nailed to the wooden stretcher. In the background, you can just make out a portrait bust of Labille-Guiard's father, "so it's not entirely overturning the patriarchy, her father approved of what she did," Hall says.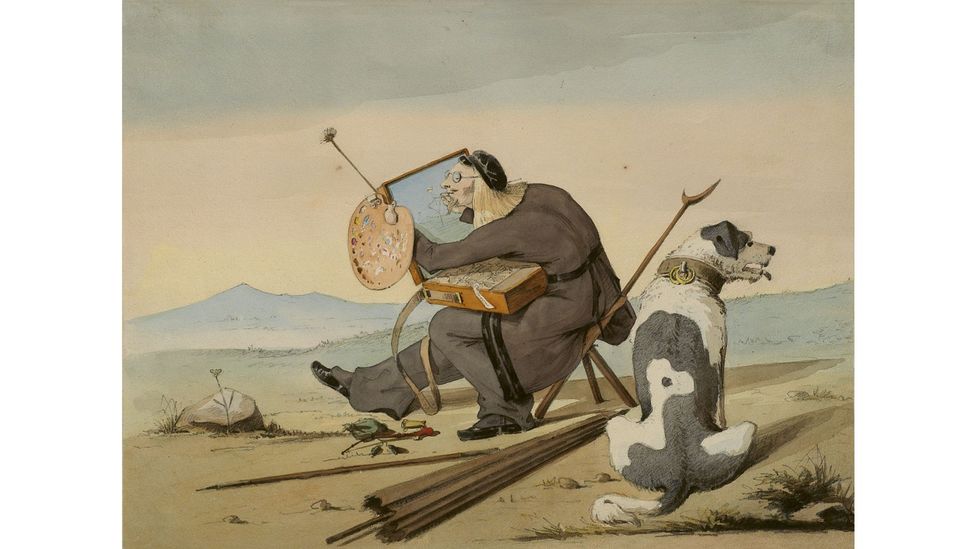 The German Painter,1840, by Carl Jacob Lindström (Credit: Nationalmuseum, Stockholm/ Photo Erik Cornelius/Nationalmuseum)
The German Painter, 1840
Painting outdoors first became popular in Italy in the 17th Century, when artists from Northern Europe embarked on sketching expeditions in the Roman countryside. In a series of four watercolours, Swedish watercolourist Carl Jacob Lindström satirises this trend. Each image lampoons a different nationality. Here it is the turn of the "Nazarene", a group of early 19th-Century German Romantic painters who wanted to revive spirituality in art.
The German painter has a painting box, which holds all his painting materials, including a canvas or wooden panel, and is dressed in standard costume of the German Nazarene. "The funny thing is, Nazarenes were against oversophisticated art, and he's come all the way into the countryside, to paint a single flower," says Hall.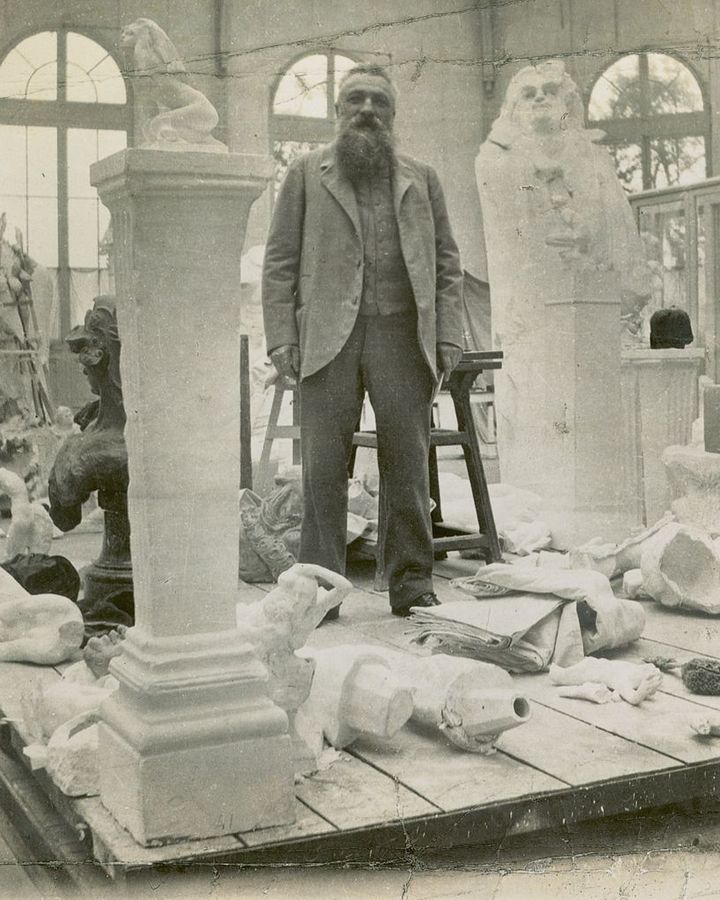 Rodin in his Pavilion Studio, c 1902, Eugène Druet (Credit: Musée Rodin, Paris)
Rodin in his Pavilion Studio, c 1902
The idea of the studio as a monk's cell goes mainstream with French sculptor François Auguste René Rodin, as captured here by Eugène Druet, "This is in large measure because the sculptor's studio is very severe, and has all these clay and plaster models, all the walls are painted white, he's surrounded almost entirely by white plaster sculptures and fragments," says Hall.
From the 1880s, Rodin's studio – a 20-minute train ride from Paris at the Villa de Brillants in Meudon – became the most photographed of his era and, unusually for the time, a lot of the shots showed unfinished works.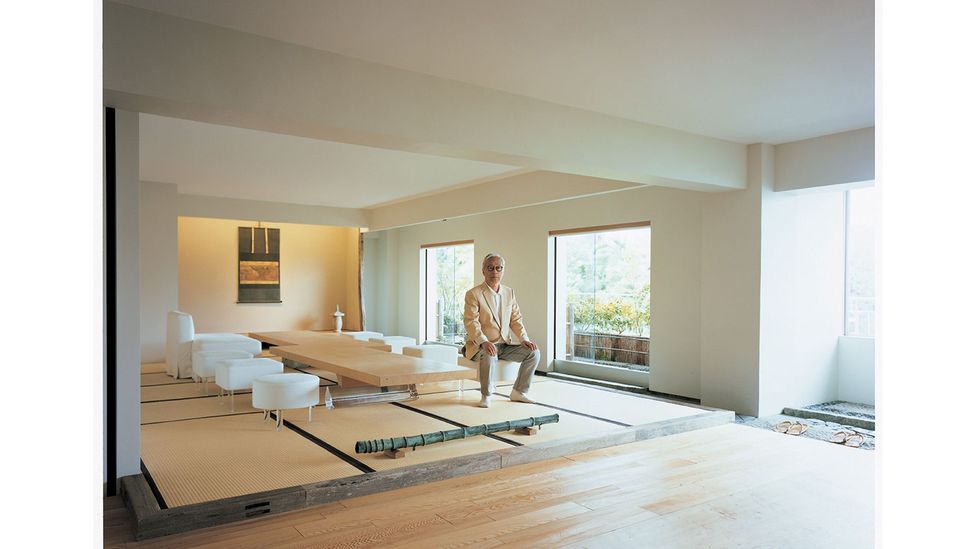 Hiroshi Sugimoto in His Tokyo Home Studio (Credit: Yasutomo Ebisu)
Hiroshi Sugimoto in His Tokyo Home Studio, 2019
Japanese architect and photographer Hiroshi Sugimoto (born 1948) "has tried to steer a poetic course between modernist austerity and crafted variety in his Tokyo home studio," Hall writes. The walls of the penthouse apartment are coated with white Japanese shikkui plaster – Sugimoto felt that was the best surface on which to view shadows. For Hall, the interior and balcony garden evoke a Japanese tea-house and tea garden – "It's a minimalist monk's parlour, with green tea."
As a boy, Sugimoto learned carpentry, and now made and designed his own furniture, using old and new materials. In the hallway, the flooring comprises stone beams from old temples. Hall adds: "He's trying to find a happy medium between a crafted space with warm, natural materials and nice wood grains, and the purity of the white space."
The Artist's Studio – A Cultural History by James Hall, is published in the UK by Thames & Hudson on 21 October 2022, and in the US on 10 January 2023.
If you would like to comment on this story or anything else you have seen on BBC Culture, head over to our Facebook page or message us on Twitter.
And if you liked this story, sign up for the weekly bbc.com features newsletter, called The Essential List. A handpicked selection of stories from BBC Future, Culture, Worklife and Travel, delivered to your inbox every Friday.